One of our account executives came up to me this morning and asked if I wanted a pita from Pita Pit. They needed one more person to order so they could get it delivered. Of course I said yes. I fill out the little online ordering form with all my options and thought I was good to go. Later these oh so funny people in our sales department put a note on my order before sending it in that said "make this extra special, it is for Big Gay!". Well the people at Pita Pit came through. H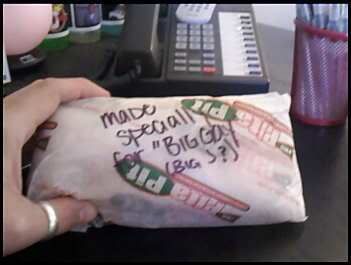 If you cant read it, it says "Made specially for "Big Gay" (Big J?)"
Of course the whole "Big Gay" line is old, and I get it all of the time. But I have to admit that life is a lot better when you work with cool people that know how to have a good time. I would hate to work at a job where everybody took themselves seriously and had to be politically correct all of the time.
I LOVE MY JOB!